Large hole diameter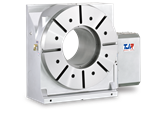 BORE DIAMETER DESIGN
OPTIMIZE
BIGGER SPACE
BORE DIAMETER DESIGN
Large bore diameter design
Delivers high rigidity
Optimizes heavy-dutty cutting
Provides bigger space for work-piece setup with fixtures.
This design is applied when TJR table diameter exceeds 255mm.
OPTIMIZE
Optimize heavy-dutty Cutting

TJR employs larger bearings which sustain outer circle periphery of table, and optimize axial heavy-dutty cutting.
Small bearings sustain only the center hole of table so that it is not suitable for heavy duty cutting.
BIGGER SPACE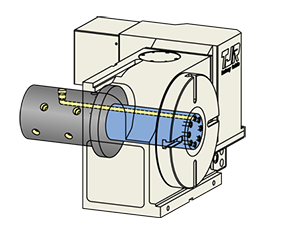 TJR rotary table with ø255 mm can accommodate 8-oil-hole distributor.
Large hole diameter can be easily adjusted.
Small hole diameter is no way to be enlarged.